Infuriatingly ignorant Bill Maher

I never cared for him, and now I never will. Here is a link to a clip of his show,
drag the fwd thing to 3:35, thats where he starts his bf rant.
http://youtube.com/watch?v=3DXxgralYF8
Updated for irony:
This has come to my attention:
Bill Maher is PETAS spokesperson for Breastfeeding!!!!!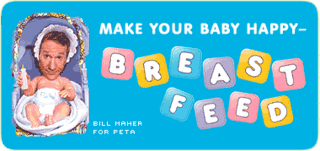 http://www.milksucks.com/baby.asp
Forget Writing to Bill Maher! Write to PETA, Demand an apology or request that he be removed from the campaign!!!!!